When we first starting planning our itinerary for Tuscany, Chanel told me her dream was to take an oil painting class in the Italian countryside à la Elizabeth Taylor. The idea stuck in my mind, and I started researching potential painting classes near Lucca. The problem was this: not only were the classes pricey, but they were big time commitments that would take an entire day or longer. I knew that wasn't the right fit for this trip, so I started thinking about bringing our own oil painting supplies with us -- why couldn't we just pop up a few easels in the backyard of the villa and paint away? But quickly I hit more roadblocks. Purchasing oils, easels, and canvases for a team of five was going to be way out of our budget, not to mention the cost of shipping them to our destination ahead of time. Also, how would we bring our finished works back with us? Everything seemed to be going against me.... still, I couldn't let Chanel's vision go. Surely there had to be a way to make her dream happen.
I googled "travel easel" and fell down an online rabbit hole into the world of what's known as field painting. Field painting (or "plien air" painting) is the term for when an artist takes his process outdoors and actually paints a landscape on site. You can even buy plien air easels and oil paint sets ingeniously designed to fold down to the size of a backback. But those still weren't going to be small enough for me. I needed to fit supplies for all five of our team members into my personal luggage. So when I discovered a technique for creating my own tiny plien air watercolor set, I knew I had finally found my solution. I was able to purchase supplies for our entire team -- as well as a charcoal set for Adam, who loves to draw -- and fit all of it (just barely) into my checked bag.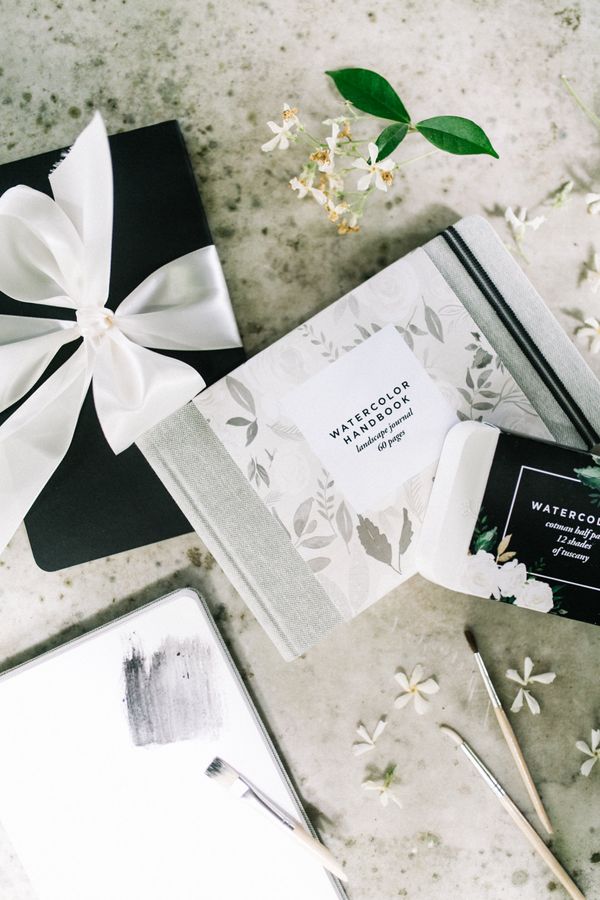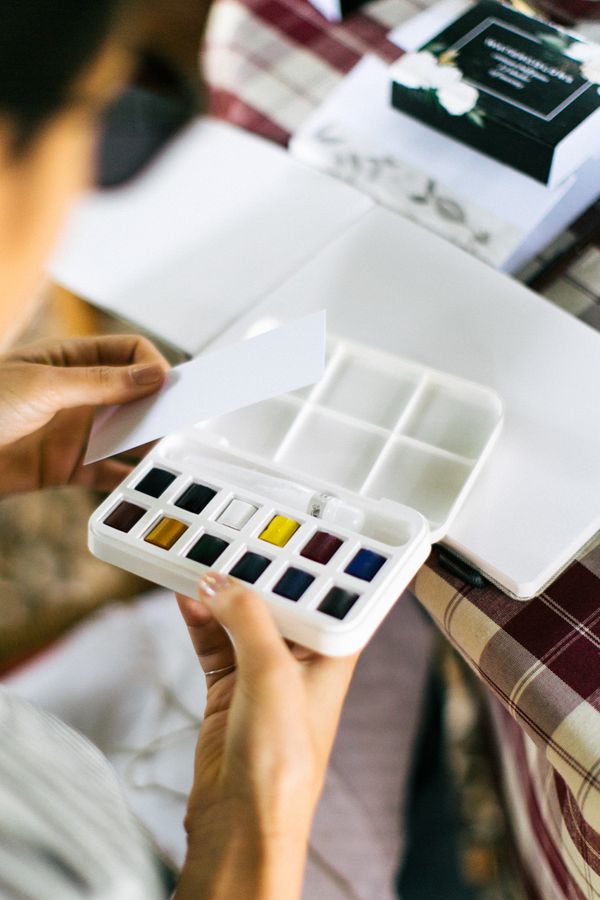 On the first morning in our villa in Lucca, I surprised the team with their miniature paint sets after breakfast. Each one included a simple 12 pan watercolor palette with pen brush, binder clip, paper towel, waterproof pen, and travel sized watercolor paper journal. I designed my own labels to make the sets feel special and tied it all together with a bit of twine. It was a perfect morning -- cool, and slightly overcast -- and we spent the next two hours just lounging around outside painting our own versions of the beautiful 200 year old villa.
We noticed quickly that the act of painting opened our eyes to the beauty of our surroundings. It required us to just sit still for a moment in this gorgeous place and really focus on all of the details, colors, and light that made our villa so magical. It's very different than taking a photo, and creates a uniquely personal keepsake. We actually enjoyed the activity so much that several of us continued to fill our journals for the rest of the trip. The best thing about a field watercolor set is that it easily fits inside a small backpack or tote, so you can really take it everywhere when you travel. It's also designed to be held with one hand, so no easel required. Watch the video below to see how to assemble your own plien air watercolor set.
Here's what you'll need to recreate our Tuscany watercolor field set:
• le pen
• paper towel
• our free printable journal label
• our free printable paint label
Since our watercolor activity only took a few hours, that left us the rest of the day to explore the area near our villa. We stopped in the walled city of Lucca to walk around before making our way to Pietrasanta, a nearby town known for it's rich art history. Pietrasanta is right next to the famed marble quarries of Carrara, a favorite resource of Michelangelo and many other sculptors. First we toured the Bozzetti Museum where we saw their incredible permanent collection. The museum has over 700 maquettes and models, which are pieces created by artists as part of their sculpting process. The marble works eventually realized by these maquette models can be found in museums and parks all over the world. Maquettes are very special because they're like blueprints for a scultpure -- they communicate the dream, the technical plan, and the overall vision an artist had for a project. Walking through the outdoor collection of maquettes at the museum, we couldn't help but feel that they were special works of art all their own.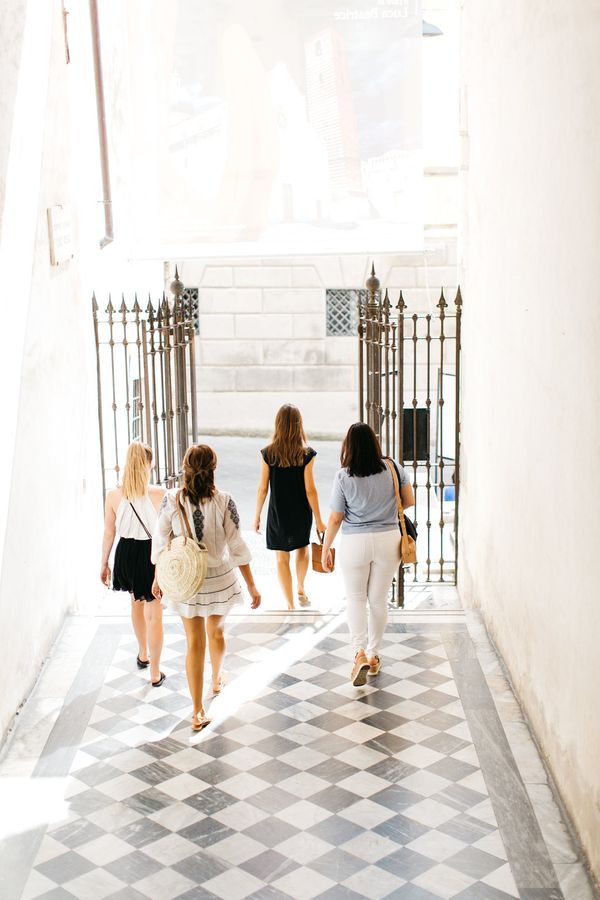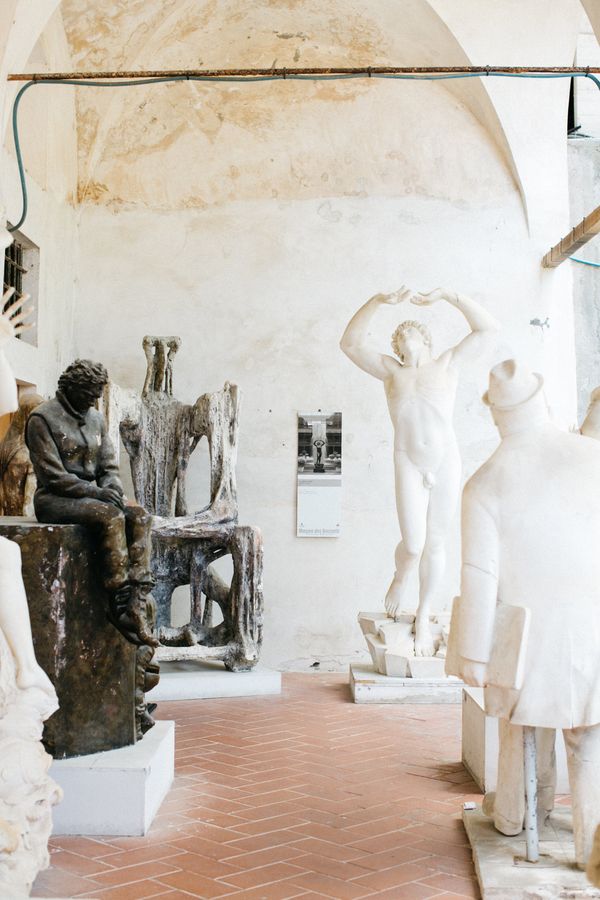 Afterwards, we had the special treat of visiting a real sculptor in her studio near the museum. Veronica Fonzo is from Argentina, but has been living and sculpting marble in Pietrasanta for many years. She and another artist from Argentina, Flavia Robalo, came to visit the little town known on vacation 20 years ago and ended up never leaving. There is a special community of artists who have always gathered in Pietrasanta, and Veronica is now an important figure in that scene. Her studio space was incredible, and we were mesmerized as we watched her chip away at a small figure made from marble using a mallet and chisel.
Her work refers often to children and childhood, and we watched as Veronica carefully revealed the figure of a girl from her marble block. Watching Veronica work, I was reminded of Michelangelo's famous quote: "Every block of stone has a statue inside it and it is the task of the sculptor to discover it. I saw the angel in the marble and carved until I set him free." We left her studio feeling inspired to create, and look for potential in all the materials around us in our own lives. It was a magical day full of art and inspiration, and it could only happen in Tuscany.