When I think of Italy, I think of the coast -- images of navy blue mediterranean water, polished wooden boats, tanned guys smoking cigarettes and eating gelato on stone steps. Admittedly, it's a super romantic vision, probably inspired by one too many viewings of The Talented Mr. Ripley. That said, of all the things we had planned for my first trip to Italy, our day at sea was the one I was looking forward to the most.
We rose early to meet Captain Roberto and his mate, Nicholas, at the docks in La Spezia. I was thrilled when I saw the boat -- it was just as I had imagined, a classic sailboat converted to motorboat, complete with polished wood and ropes. As we climbed aboard and headed out to sea, Chanel and I grinned at each other in a moment of disbelief: This is happening.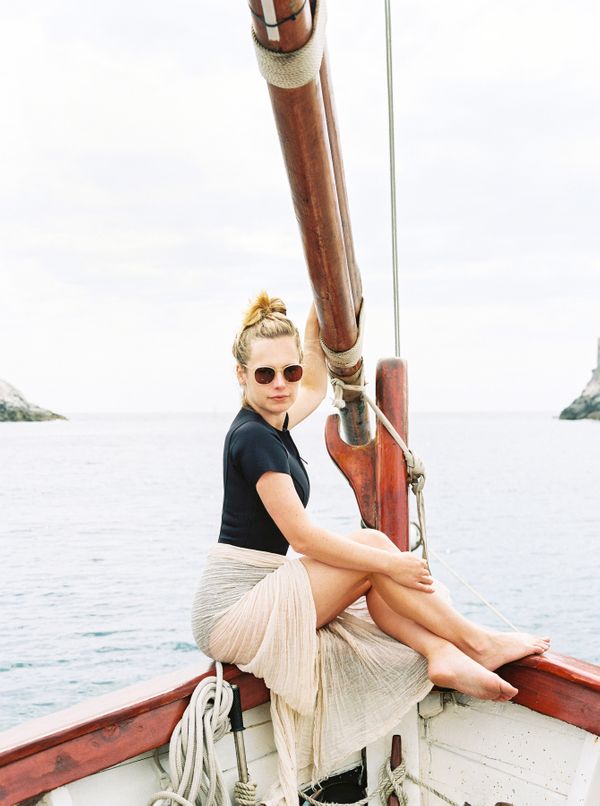 We set out on the Ligurian coast and headed south, towards the village of Porto Venere. Some towns were built to be viewed from the water and Porto Venere (which is known as "the sixth city" of the Cinque Terre) is most certainly that. An ancient village, the town is believed to date back to at least the middle of the first century BC. The tall and narrow buildings form a pretty pastel wall facing the sea that (long ago) protected the village behind them from intruders.
Now they look like a perfect box of colored chalks, in a palette that is purely Italy.
We docked our boat at the marina and headed into town to explore. It was another overcast day, ideal for walking around outside and taking photos. We hiked to the top of the big hill in Porto Venere to see the Church of St. Peter and the incredible panoramic views from it's steps. Afterwards we found a cute cafe and shared a bottle of (what else?) rosé. Then another. We watched a group of young Italian boys barefoot, kicking a red ball back and forth between them, without a parent in sight. "Can you imagine?" said Camille. "Growing up here?" "It would be heaven," said Adam.
It must have been that second bottle that gave us the courage to brave the cold water on such a cloudy day. In any case, that afternoon Captain Roberto took our boat around Palmaria Island, to a secret swimming spot where we dared each other to jump in and swim to the beach. The cold was paralyzing at first, but we adjusted quickly. There's nothing like the feeling you have after a cold swim in the sea - salty, fresh, healthy, and happy. Also usually hungry. Good thing for us, we had an incredible meal waiting for us that evening.
The rest of the day we spent touring around on the boat, laughing as the waves almost knocked Adam off the bow, and trying in vain to focus on the paperbacks we had brought with us. There was too much to talk about, too many photos to take, too many drinks to be had.
As we docked the boat and headed back to our car, we all agreed that it had been a perfect day at sea. Romantic notions aside, sometimes, things are exactly how you imagined.