Getting six girls, one guy, loads of camera equipment, and a few too many over-packed suitcases halfway around the world is no easy feat. It took us a full 24 hours to get from Austin, TX, to Lucca, Italy, and truth be told, we were all exhausted upon arrival. However, a sudden shift in our spirits occurred when we pulled up to a wrought iron gate and cypress tree lined path that invited us into Villa Cosimo, our home for the next four days. The villa's mustard-yellow exterior and white shutter windows had us all exclaiming, "I can't believe we're finally here!"
Our charming hosts David and Barbara greeted us with double kisses and gave us a tour around the property. David grew up in Villa Cosimo and now he and his cousin Barbara rent out the villa to share their family home with guests from around the world. They walked us through every room of the house (there were too many to count) and showed us around the gardens surrounding the villa. To make things even more idyllic, there is a resident swan on the property who is so tranquil that she allows people to pet her!
After our tour, we all claimed our bedrooms, unpacked, and got ready for dinner. Our stay at Villa Cosimo boasted a private chef and we decided that the best way to start our Tuscan adventure was with a family-style dinner at home.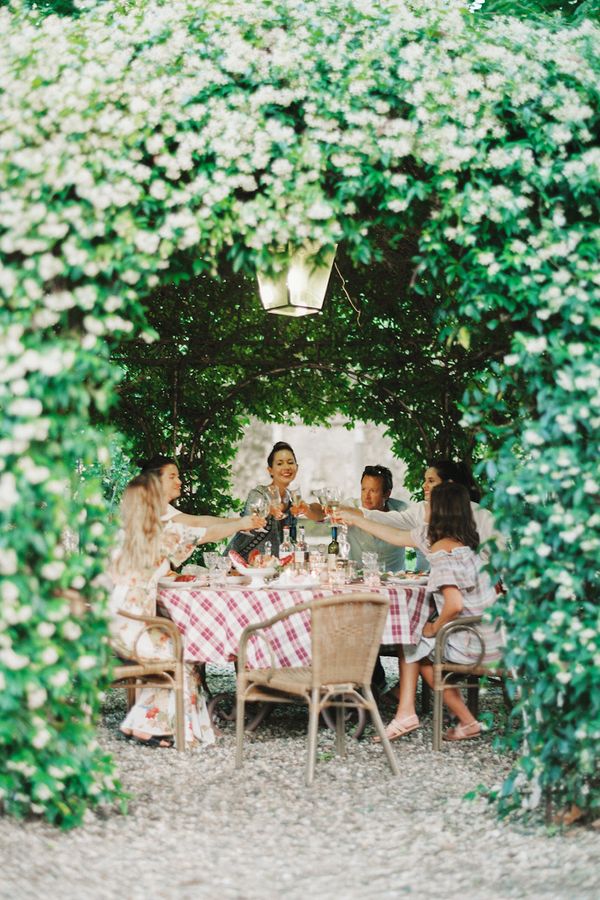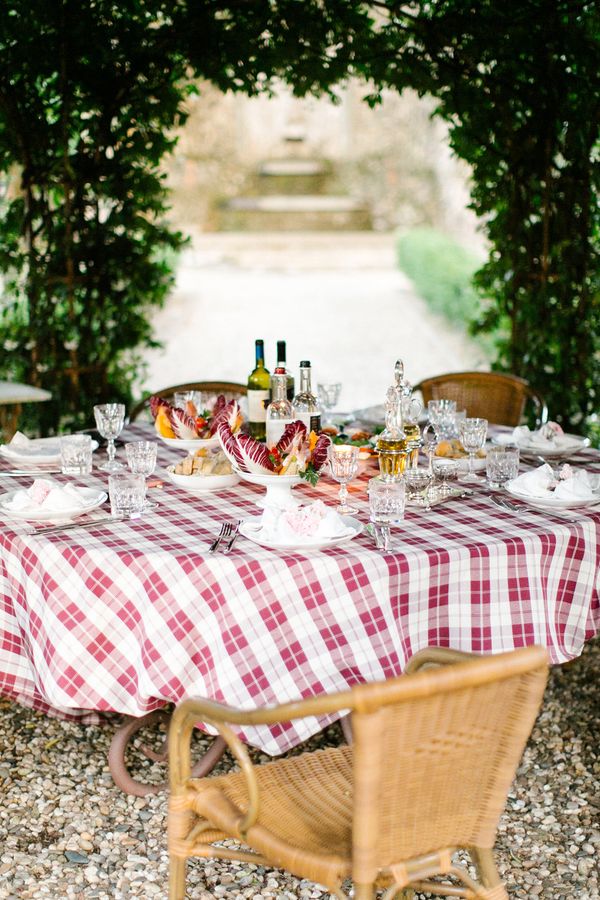 We scouted out the dreamiest location for dinner al fresco – a garden pergola engulfed in the most fragrant jasmine I've ever seen. We couldn't imagine dining anywhere else. One by one, everyone emerged from their bedrooms and made their way to the pergola where we gathered around a few bottles of white wine and awaited our first four-course, Italian meal.
Our chef introduced us to the Italian staples that we would later see pop up at almost every meal throughout our trip. We started with prosciutto-wrapped melon, fresh caprese salad, and warm bread and olive oil. I like tomatoes as much as the next girl, but trust me when I say this, the tomatoes in Italy are like nothing I've ever tasted. Each once is so deliciously juicy that it's nearly impossible to say no to seconds.
Our second course consisted of spaghetti-noodle pasta topped with fresh veggies, herbs, and capers. At last, pasta in Italy! What surprised me most about Italian-style pasta is that it is very rarely doused in sauce. Instead, tomatoes, garlic, and fresh herbs are combined over heat to create a light and fresh reduction.
We must have gotten caught up in conversation (or maybe the never-ending bottles of wine), but before we knew it, out came our third course, pistachio-crusted salmon. Unbeknownst to us, most Italian dinners consist of a pasta dish before the main course, but somehow our stomachs made room – and boy, we were glad that they did!
We are already such a close-knit team, but there was something about being abroad and living together for a few days that bonded us all just a little tighter. Dinnertime became our daily sanctuary, where we shared how our day had been and what we were looking forward to tomorrow. Two hours later, it was time for dessert and we all dug in to silky-smooth panna cotta topped with fresh blackberries. It was the sweetest ending to our first night in Tuscany.