As I pulled stems off the largest sage leaves I'd ever laid eyes on, a tiny lady bug scurried across my palm and dropped onto the countertop below. Giuseppina, a Tuscan woman with sparkling eyes and a warm smile, laughed at my six-legged friend and explained that he must have been a stowaway on the trip over from her backyard organic garden.
Across the expansive kitchen island of our villa, her son Luca showed Jenn how to sauté summer tomatoes and garlic in olive oil for a simple and fragrant sauce. Meanwhile, Caroline was whisking together a handful of ingredients that would later be transformed into the silkiest panna cotta I've ever tasted, while Carmen (a self-proclaimed non-foodie) was turning out light-as-air spaghetti from the hand-cranked machine that Italian nonnas have been using for generations.
There's no doubt that learning the techniques of Italian cuisine in such an authentic setting was a "pinch me" moment, and the menu we created and shared that evening was the ultimate testament that truly great ingredients, when prepared simply and with care, come together to create something so much greater than the sum of its parts. These are a few of the lessons we learned from Giuseppina: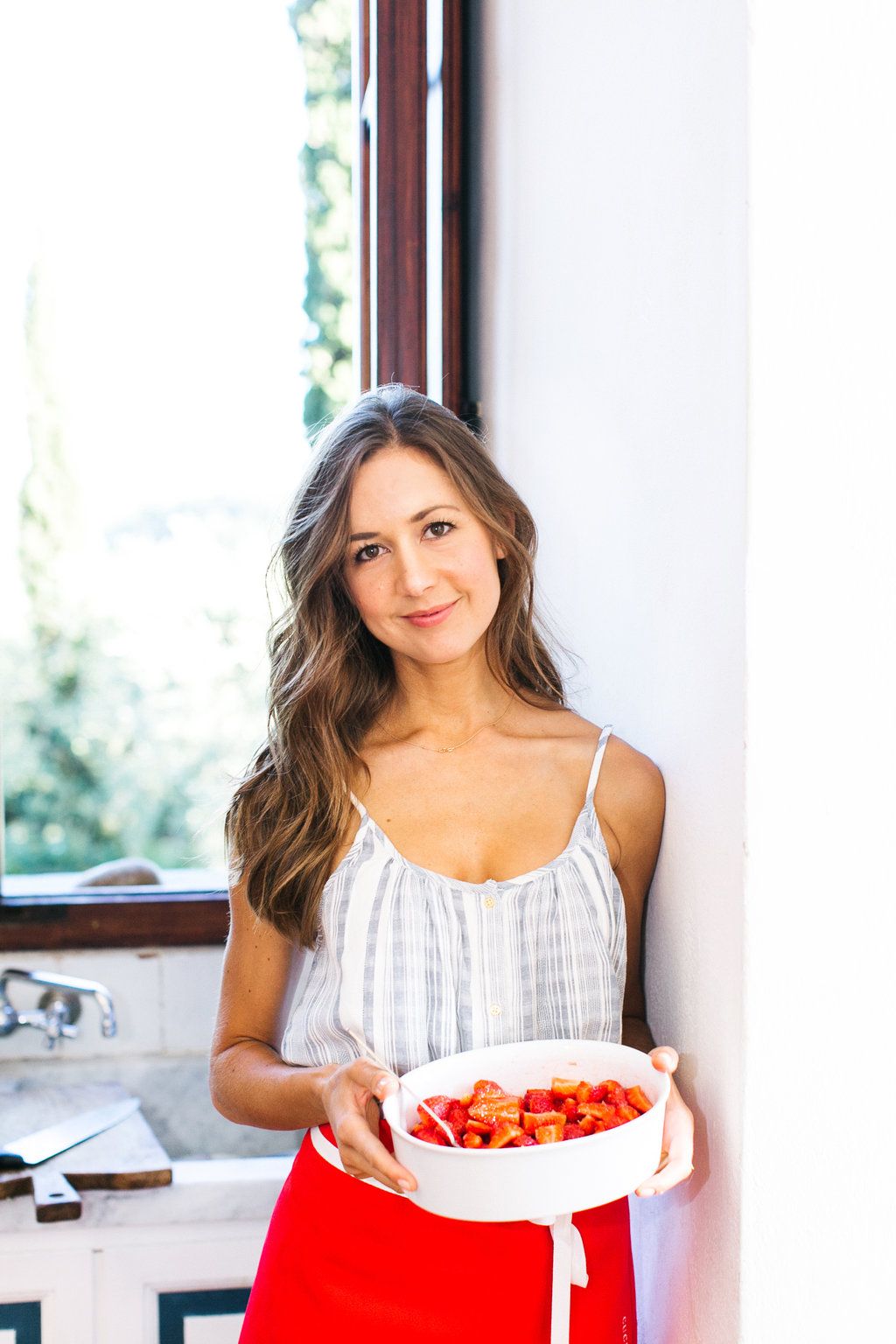 Savor the process.
The first thing we did when we gathered into the kitchen to start our class? It wasn't reviewing our knife skills or any other technical instruction. Giuseppina opened a bottle of Chianti (brought from her family's own vineyards, no less), and laid out a board of sharp pecorino and spicy salami and instructed us to snack and sip as we cooked. It was evident that creating a relaxed spirit of conviviality was paramount to the Tuscan cooking experience — an ethos that I saw repeated time and again all across Italy, from our bicycle tour guide in Florence who suggested multiple espresso stops along the way, to the winemaker who led us through the longest lunch I've ever experienced. Life's too short to rush: enjoy the journey!
Cooking is a practice in abundance.
From the generous amounts of olive oil that were drizzled on everything, to our wine glasses that magically stayed filled throughout the evening, Giuseppina demonstrated abundance at every point along the way. When Caroline added a pour of fresh heavy cream to the panna cotta, Giuseppina encouraged her to add another splash. As I showered the pork shoulder with garlic and rosemary, she showed me how to instead roll it in the pile of chopped herbs so that every inch was covered in flavor. The sheer act of friends coming together for a delicious meal was a celebration of plenty; one deserving of full platters of food and a luxuriant use of ingredients that would maximize the pleasure in each bite we tasted.
Flavor is all about the quality of ingredients.
I've never seen tomatoes quite as sexy as the ones that Josephine brought from her garden: brilliant crimson, voluptuous and bursting with juice, they needed little more than a bit of heat, plus garlic and salt, to transform them into a silky sauce that coated each strand of our spaghetti. The number of ingredients that went into each dish we made was shockingly few; yet the care that Giuseppina took in making sure each one was ripe and flavor-packed ensured a delicious outcome. As we measured out the 4 ingredients that would become our pasta dough, Josephine told us how she made sure to always buy "farina 00" flour for her pasta, which is a very finely milled flour made in Italy that results in silkier noodles (you can order it online here.) Maybe it was the magical setting or glasses of Chianti going to my head, but even the basil and strawberries that were waiting to be chopped somehow tasted like the best I'd ever had.
After we'd polished off the cheese plate, devoured the fried squash blossoms around the kitchen island, and opened a third bottle, it was time to sit at the table and enjoy the fruits of our labor. The notes of our Italian Riviera playlist floated onto the terrace as we arranged branches from the property's many lemon trees in a pottery jug for the table, folded linen dishtowels into impromptu napkins, and set out family style platters of tomato and basil-studded spaghetti, succulent garlic and rosemary pork shoulder, and shatteringly crispy-skinned roast potatoes. We talked and laughed late into the night as the candlesticks burned down to nothing, and at the end of the night, we received the best surprise ever: two tiny kittens wandered up from the olive groves around our villa, mewing hungrily and jumping into our laps to be petted. It came as no surprise that they went as crazy for the panna cotta as the rest of us did, and their arrival felt like the final picture-perfect touch to our most unforgettable night in Italy.